I'm pretty excited about today's topic; it was actually a big motivator for starting my blog back up. I promise this isn't exclusively a blog about the Aviary and their series of books, but, well, I'm not ready to move on yet. When the Aviary announced their book Zero (so named for being about "zero" ABV drinks, although they primarily refer to them as "non-alcoholic beverages" or "NAs"; that's the convention I'll use), one section, in particular, caught my eye: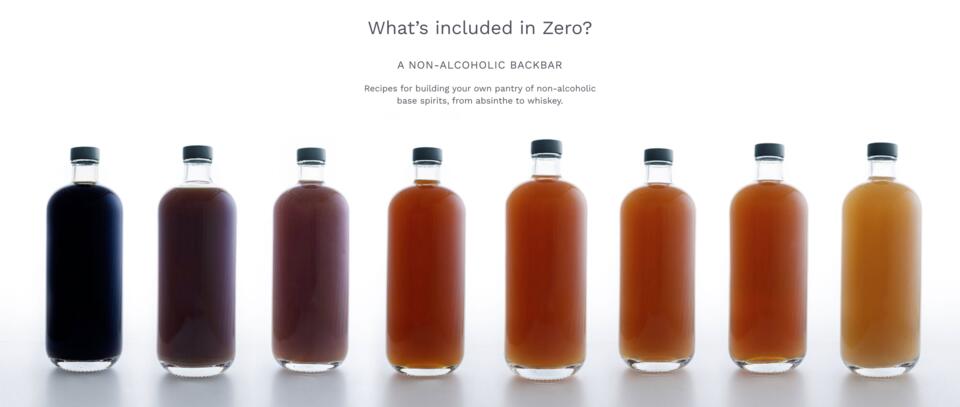 I was enticed by the possibility of creating standard cocktails using non-alcoholic ingredients. It's probably just a sign that I'm getting older, but I find that, for whatever reason, more and more of my friends aren't drinking or are drinking less. I want to offer them something just as delicious as what I can make with alcohol, and most mocktail recipes just don't cut it; they're frequently little more than fruit juice and soda water.
When I got the book, I couldn't wait to dig into it. I flipped through the original recipes and gave up on marking the ones I was excited about because it was almost every one. The recipes look unique and delicious (and occasionally complicated)—everything I've come to expect from the Aviary. But when I read through the introduction, I was kind of bummed:
[M]ost of these recipes [are] vulnerable to spontaneous fermentation. […] For this reason, avoid storing any of these beverages at room temperature for long periods of time. They can generally stay stable for up to a week in the refrigerator.
Oof. Most ingredients on our bar can last for well over a year without perceptible loss of quality. It definitely wouldn't be feasible to re-make a complete back bar every week when the last batch expired.
I gave up on building my own NA back bar for months, but I think I've finally cracked it, and as far as I know, nobody else is doing this yet.